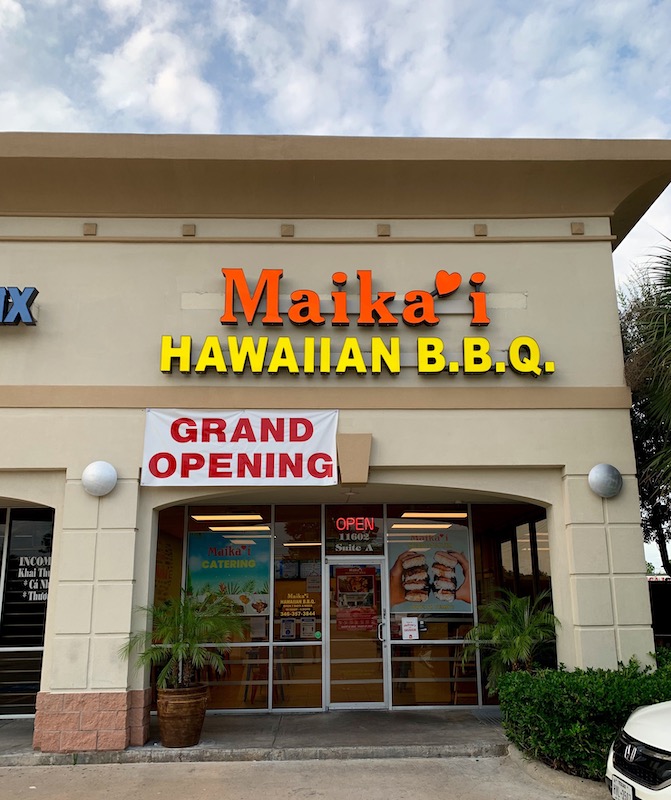 The recent grand opening of Maika'i Hawaiian BBQ House in Chinatown brings the total to three Houston-area locations for this outpost of cuisine from the former Sandwich Islands, with others in Katy and the Jersey Village area.
In a way, barbecue is a bit of a feint. Just as most Louisiana-themed restaurants beyond that state's borders lump themselves under the Cajun banner as a matter of convenience, so too do most Hawaiian restaurants whose specialty is not really barbecue per se but actually a uniquely Hawaiian dish known rather lamely and generically as the "plate lunch." Said barbecue is often a component of a plate lunch but they exist without it and it's just a component.
So what else makes a plate lunch? Think of a Southern or Texan diner's meat and three, only in this case, the influences are native Hawaiian, Korean, Japanese, Chinese, Portuguese, and mainland American. Generally speaking, this melange of cultures lands on this plate as two scoops of steamed white rice and a third of cool mayonnaise-based macaroni salad, accompanied by a variety of grilled meats and/or seafood. Here at Maika'i chicken, beef, kalbi pork ribs, kalua pork (Hawaii's answer to pulled pork), shrimp, fish, Spam, eggs, and tofu for the plant-based set. Chicken comes either plain grilled, barbecue-style or as katsu – filleted and breaded in panko crumbs. (The list of proteins is longer in Hawaii, where you can also order Portuguese sausage, char siu roast pork, Phillipine pork adobo, or salmon teriyaki, among many others. Really it's the two scoops of rice and the macaroni that define it –beyond that, anything goes. It's a bit like gumbo like that – it's not the proteins, which can be anything under the sun, but the base.)
Some, including Professor Jon Okamura of the University of Hawaii, theorize the plate lunch is a descendant of the Japanese bento box, because, as he says, "bentos were takeaway kinds of eating and certainly the plate lunch continues that tradition." That may or not be the case, but what is known is that their origins trace back to Hawaiian pineapple and sugar plantations in the Victorian Era. Field hands from the Far East and Portugal needed cheap proteins and carbs in bulk in order to endure long hard days under the tropical sun, and plate lunches are pretty much nothing but protein and carbs to this day. Early on, it was most often simply rice and meat, but more recently macaroni muscled its way on the scene, perhaps as a sort of token nod to the formerly independent Kingdom's colonizer.
Maika'i (whose names means both "physically attractive" and "virtuous") also serves a traditional version of the plate lunch-adjacent dish known as the loco moco: a bed of rice topped with ground beef patties, fried eggs, and brown gravy. (Clearly nobody involved in the naming of this dish was a fluent Spanish-speaker, as the name translates in that language to "crazy snot.")
My son and I sampled plate lunches with (between us) katsu chicken and barbecued pork, beef, and dark-meat chicken and all were a hit. Often as not, comfort foods tend to translate well across cultures.
My son is far more finicky than I am, and so I had an appetizer order of Spam musubi to myself: this would be a rectangular block of rice topped by a slab of Spam lashed together by a tight wrapping of nori — seaweed that tastes and smells like fish. (Glad I ordered it, not sure if I would again.)
And man, just as it must have in those pineapple fields of yore, a little money goes a very long way at Maika'i: nothing on the menu tops $13 (a dozen shrimp, garlic or grilled) and most plates are under $11. And they go a very long way — each of us only finished half our plates and were grateful to have leftovers enough for a hearty dinner as well.
No, it isn't the most health-conscious of dishes — pretty much every fad diet is mocked along the way to plate lunch, from low-carb / Keto (does that one ever come for a beating) to low-fat or plant-focused.  Even so, it remains a staple of the Hawaiian diet and was famously a go-to for President Obama on his trips home. Yes, you too can indulge in the occasional plate lunch and enjoy President Obama's elegant physique
"[Because he is so healthy], I think it is really funny he still eats plate lunch," Hawaiian food historian Kaui Philpott told the New York Times shortly after the native son defeated John McCain in 2008. Philpott went on to say his love of plate lunch was one of many things that endeared him to natives of the state. While he may not have been born on the islands, he always acted like he had been, and Hawaiians love him for it to this day. "I think it is because when he comes back here he is so cool, he just kind of slips back into local ways," Philpott said.
And you can try out an Americanized version of those local ways in the International District, where it is just one more cuisine among dozens in one of America and the world's most amazing dining hotspots.
Maika'i Hawaiian BBQ House
11602 Bellaire Blvd (Dakao Plaza)
346.357.3844