Alief SPARK Park and Nature Center
After a year of hard work and volunteer energy, a 7-acre parcel of land on the corner of Beechnut and Dairy View has become a true community assest with a tree farm, an orchard, a pavilion and a gathering place for residents of all ages. Originally the plan was just to build a community garden but it has grown into a wonderful nature center which had its dedication ceremony on November 10th. Karen Loper, chief of staff for Texas State Rep. Hubert Vo and a director on the board of the International Management District, and Barbara Quattro, president of the Alief Super Neighborhood #25 were the organizers of the original garden project.
Loper credits neighborhood volunteers for their help in making the our whole nature center grow, along with collaborative partners like Alief ISD, from whom the property is leased; Alief Super Neighborhood, SPARK, Local Initiatives Support Corporation, University of Houston School of Architecture, Apache, Trees for Houston, Wells Fargo, Dreyer's, M2L, Hunter Industries and many other sponsors and volunteers.
On Sept. 17, 2011, 150 volunteers broke ground and wielded shovels to create 41 raised beds, which were fully planted by mid-October. A beneficial garden was completed in December, and in the spring of 2012, the tree farm was createdwith a grant from Apache. Here, 500 five-gallon trees are being cultivated to 15-gallon size for use in esplanade beautification projects within the International Management District. The Alief Nature Center was one of 17 in the country awarded a fruit orchard by Dreyer's Fruit Bars' Communities Take Root project which were planted in October.
The signature element of the nature center is the pavilion. It was designed and built by University of Houston architecture students. The $35,000, 20-by-20-foot structure, funded by the SPARK School Park Program, features a roof resembling the wings of a butterfly that funnel rainwater into eight rain barrels, benches, crushed granite flooring, and a solar panel to provide power for lights and fans.
Eric Ober, a metal artist and Alief resident, was commissioned to create a work of outdoor art resembling a gardener. His bright red gardener was unveiled at the dedication ceremony in November.
In addition to providing shade in the park, the pavilion could also provide shelter for a farmer's market, and may also serve as an outdoor classroom for students from nearby Youngblood Intermediate School. The Pavilion can also be perfect place for neighborhood gatherings.
The land was just sitting vacant and now it is a place where people can work and socialize together–different age groups and people from different backgrounds – just neighbors.
Click here to learn more about the SPARK Park & Nature Center
"This project has really done what we intended it to do – it brought people together. We hope to host neighborhood events there, maybe even potluck suppers."
Alief Family YMCA
7850 Howell-Sugarland Rd.
Houston, TX 77083
281.495.9100
Hours:
Mon-Thurs: 5:00 am – 9:00 pm
Friday: 5:00 am – 8:00 pm
Saturday: 8:00 am – 5:00 pm
Sunday: 1:00 pm – 5:00 pm
Arthur Storey Park
Location: 7400 W. Sam Houston Pkwy. South
Houston, Texas 77072
Park Administration Office: (281) 496-2177
Hours: 7:00 am until Dusk
Park Amenities:
Exercise Station
Gazebo
Kid Fit Exercise Station
Picnic/Barbecue
Playground
Pond
Rest Rooms
Tai Chi Court
Walking Trail (1.77)
Hackberry Community Center and Park
The park features a nearly mile-long outer-loop trail. In addition, the park has a community center, a splash pad, and a playground. The park is the former home of Hackberry Golf Course and rests on a 22.5 acres.
Address: 7777 S. Dairy Ashford Houston, TX 77072
Phone: (281) 776-9908
Fall/Winter/Spring Hours:
Mon. – Thu. 10:00 a.m. – 8:00 p.m.
Fri. 10:00 a.m. – 7:00 p.m.
Sat. 10:00 a.m – 2:00 p.m.
Sun. Closed
Summer Hours:
Mon. – Fri. 8:00 a.m. – 9:00 p.m.
Sat: 10:00 a.m. – 2:00 p.m.
Sun. Closed
Adjacent to the community center building is Hackberry Park.
Boone Rd. Park
The parks amenities include a 1.06-mile walking trail system, cricket field, playground, picnic pavilion, and multi-purpose fields, as well as a nature preserve recognized by the Texas Forestry Department.
Location: 7700 Boone Rd. Houston, TX 77072
Hours: Daily 6:00 a.m. -11:00 p.m
Alief Community Center and Park
Located at Bellaire Boulevard and South Kirkwood Road, the Alief Community Center features an indoor gym for basketball and other activities, as well as a swimming pool, playground, lighted tennis courts, and lighted sports fields.
Address: 11903 Bellaire Blvd Houston, TX 77072
Phone: (281) 564-8130
Fall/Winter/Spring Hours:
Mon. – Thu. 1:00 p.m. – 9:00 p.m.
Fri. 1:00 p.m. – 8:00 p.m.
Set. – Sun. Closed
Summer Hours:
Mon. – Thu. 8:00 a.m. – 9:00 p.m.
Fri 8:00 a.m. – 8:00 p.m.
Sat: 10:00 a.m. – 2:00 p.m.
Sun. Closed
Adjacent to the community center building is Alief Park.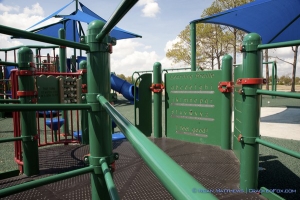 SPARK Parks
The SPARK School Park Program is a non-profit organization operating out of the City of Houston Mayor's office. Developed in 1983 as a way to increase park space in Houston, Texas, Former City Council Member, Eleanor Tinsley, created SPARK to develop public school grounds into neighborhood parks. An inter-local agreement, one of the first in Houston, between the city, the Houston Parks Board and the school district, formally established the SPARK program. SPARK combines the resources of the Department of Housing and Community Development, seven local school districts, Harris County, the private sector, neighborhood group, PTA/PTO groups and concerned citizens.
Alexander SPARK Park
Alexander Elementary School
8500 Brookwulf
Houston, TX 77099
Chambers SPARK Park
Chambers Elementary School
10700 Carvel
Houston, TX 77072
Cummings SPARK Park
Students and parents at Cummings Elementary raised $20,000 to help build the park. Fundraisers included a silent auction, school dances and selling carnations on Valentine's Day. In addition to private donations, other funding came from the city of Houston Housing and Community Development Department and the Alief school district. The School and park are located at 10455 South Kirkwood Rd.
Landis SPARK Park
Landis Elementary School
10255 Spice Lane
Houston, TX 77032
Liestman SPARK Park
Liestman Elementary School
7610 Synott Road
Houston, TX 77083
Smith SPARK Park
Smith Elementary School
11300 Stancliff
Houston, TX 77099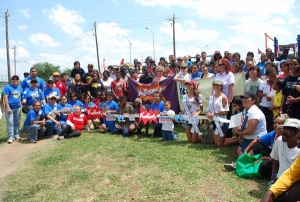 Volunteers build a playground in six hours.
When 300 volunteers pitch in a cumulative 1,800 man-hours' wielding shovels, hammers, paintbrushes and rakes, an empty field can be transformed into a playground in just six hours.
That's what happened Saturday, April 28 as Alief residents joined forces with sponsors Blue Cross Blue Shield, Texans Together, KaBoom!, and The Mint Apartments to create a safe play space for kids on the corner of Dairy Ashford and Rodeo Square Drive.
After an 8:30 a.m. kickoff presentation, adults and children from across the area started working on the vacant lot donated by the apartment complex, said Shara McClure of Blue Cross Blue Shield.
"It's amazing that you can start with a field and end up with this beautiful playground," she added. "For kids, play is so important. When we invest in communities and in projects like this, kids are more active. It's all part of fighting childhood obesity."
Intermediate and high school student volunteers were "tireless" in their efforts, McClure said. Of course, occasional breaks for potato sack races, balloon tosses, and flash mob dancing made the work more fun.
Hastings High School student Nehmirah Dyson, 16, and Jeffrey Williams,12, of Youngblood Intermediate School, both said they came out to help because they have younger siblings and because "it's the right thing to do for the kids."
"I live out here and am a volunteer in the after-school program," said college student Lewis Pittman, 22. "We've been taking small steps, but this is a giant leap."
The Mint playground was the brainchild of "Ms. Iris" Alicea, a retired City of Houston employee now volunteering with Texans Together. Alicea also helped spearhead a community garden nearby, which was named for her during the park's dedication ceremony.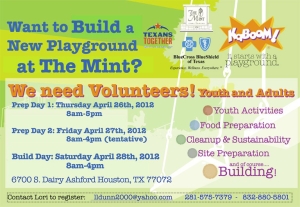 "Everything I do, I do it with my heart," Alicea said. "I do it for the children who need to be supported, encouraged and motivated."
Naudy Martinez, project manager for KaBoom!, says this is the organization's 2,088th park to be built in the United States. KaBoom! is a Washington, D.C.-based organization whose mission is to create play spaces within walking distance of every child in America.
The park, which includes playground equipment, a pergola, six garden beds, five benches, two picnic tables and an outdoor education area, took 125 cubic yards of mulch and 18,000 pounds of concrete to complete. Donations came from local businesses and organizations like the Lions Club, the International Management District, Alief Super Neighborhood Council, Keep Houston Beautiful, Academy, Costco, Party City, Shipley Donuts, Whole Foods, AAC Roofing, Home Depot, Lowes, Luby's, Popeye's, and Starbucks.
The mission of the Bayou Preservation Association (BPA) is to protect and restore the richness and diversity of our waterways through activism, advocacy, collaboration and education. BPA focuses its efforts on the 22 watersheds in the greater Houston area. For more information,
visit BPA's website
.