By Christina Autry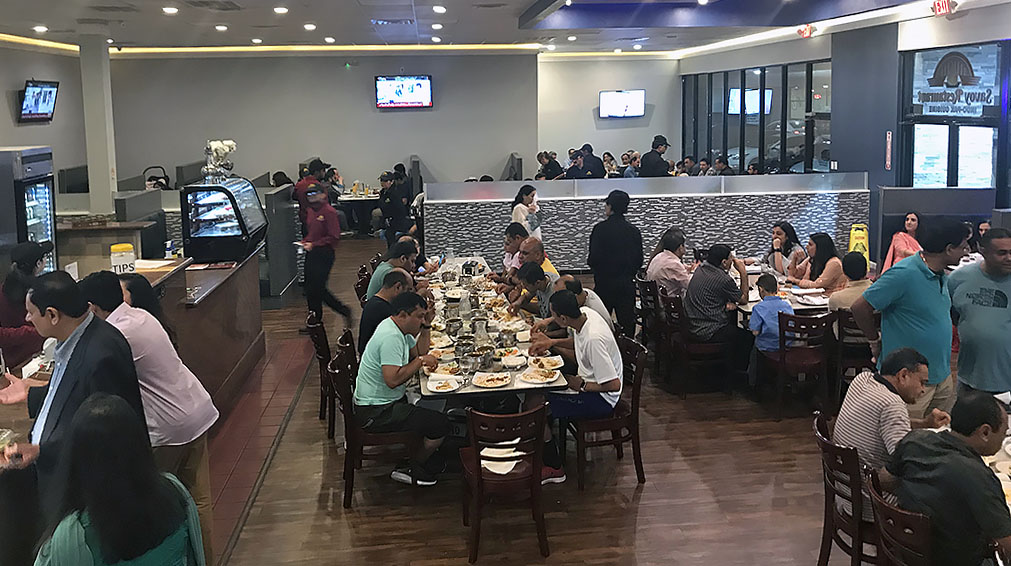 Gazing at the extensive digital menu displayed above the ordering counter at Savoy Restaurant will be your first step in a series of critical, stomach-oriented decisions. Known for their homemade Pakistani and Indian dishes, this International District restaurant offers everything from spicy Karahi Goat to creamy Kulfi ice cream. For newcomers to Indo-Pak cuisine and veterans alike, eating family-style with a group is a sure-fire way to try a variety of dishes at Savoy.
If you've arrived for a weekend breakfast, your choice is clear: go straight for the Halwa Puri, recommended by owner, Noorallah Ali. What you'll receive after grabbing your number and picking a table will be crispy, fried Indian bread (puri) with halwa, made from semolina, ghee and sugar, mixed with potatoes and chickpeas, something commonly eaten in both India and Pakistan for breakfast.
If you're here for lunch or dinner, it's safe to assume that you're ready for the mouth-watering boldness of flavor that northern India and Pakistan are famous for. Keeping in mind that Pakistan and India share a long history, it makes sense that there is a good deal of overlap in cuisine, despite distinctive cooking styles and ingredients among various regions of both countries.
Southern Indian food, with its dahl, naan and dosa are very different from what you'll find up north. Southern and central India have a deep tradition of vegetarianism, differentiating it from the hearty, Central Asian inspired meat dishes of Pakistan. Nihari, the famous spicy, slow-cooked meat stew associated with Pakistan, actually originated in India. However, the lamb or beef key to Pakistani nihari removes it from most Indian menus. Many Indians who are willing to eat fish or chicken will still refuse beef, as the cow is sacred in India.
Savoy takes a Pakistani and northern Indian approach to their menu, with 100% zabiha halal meats making up their niharis, curries, and grilled meats. "Zabiha halal" simply means that the animals they use in their dishes were slaughtered according to Islamic tradition: something that many Muslims do not compromise on. Grilled meats such as kababs and sizzling skillets are top sellers at Savoy, along with the curries, karahis, Chicken Tikka Masala, Bhindi Masala, and vegetarian chaat plates.
The Chicken Tikka Masala, Butter Chicken, and Chicken 65 are crowd-pleasers with the younger generation, and Americans who may not be used to a high level of spice. "We're hoping to get the younger generation interested in eating Pakistani and Indian food when they eat out; but many of them want to eat American food since they're already eating Pakistani food at home," says Noorallah. "My personal favorite dish is the Goat Dry Fry," he continues, explaining that this is a plate of chopped goat, marinated with tomatoes, onions and ginger.
"We use authentic Pakistani ingredients. We grind all our own spice mixes, we don't buy them pre-made," says Noorallah. The authentic taste, family atmosphere, and fast-casual environment keep the regulars coming and brings in new customers from all around Houston. During the month of Ramadan, Savoy provides free dates for Muslims getting ready to break their daily fast.
Savoy Restaurant is not the same as it was only a few years ago, when ownership changed to Noorallah and his family in 2017, and the restaurant was remodeled. Savoy has been serving Pakistani food since 1986, of which Noorallah kept many of the same recipes. His son Navid and his friend Sharez began professionally running the restaurant's social media presence. Having been in the same location for 33 years now, "Indian and Pakistani communities around the U.S. know about Savoy. When they come to Houston, they know where to eat," says Noorallah. "And when we visit, say, Chicago, we know where to get the best nihari," he adds.
Noorallah moved to from Houston to India in the 80's, a turning point that he is thoroughly grateful for. "There is a lot of opportunity here. This country accepts everyone, and welcomes everyone. I am blessed that I am here, and that my son was born here," he emphasizes. Despite the challenges of owning a restaurant, this was something that he always hoped to accomplish. "The restaurant business is in my blood," says Noorallah. "My dad had a restaurant in India, and my brother has a restaurant and grocery in Carrollton Texas, called Al Markaz."
Reflecting upon the past two years of owning the International District's taste of India and Pakistan, Noorallah can say, "One of my favorite parts about owning Savoy is the friendships I've made with customers, and interacting with everyone who comes in. We've become like family with many people who come here. And I enjoy having people taste our country's food, and experience the culture." Food, friends and culture – isn't that what Houston does best?
Savoy Restaurant
11246 S Wilcrest Dr
Ste 145 B
Houston, TX 77099
281.568.6772
savoyrestauranthouston.com
https://www.facebook.com/SavoyRestaurantHou/
Instagram: @savoyrestaurant_