Vol. 3, Issue 21 – 09.02.22
Dear District F,

I can't believe summer is over. As we get ready to embrace the fall and a much-needed pause over an extended weekend, I want to bring your attention to a few significant constituent updates:

1/ On Wednesday, during the city council, we had a long and robust discussion with HPD Chief Finner regarding accurate crime stats, and I am happy to report that the violent crime in District F has decreased by 10%. The investments citywide are making a difference and your commitment to the safety of your neighborhood and friends. Check out the image in the body of the newsletter for more details.

2/ Expect rain to visit us this weekend, so I want to remind you how our drainage system works. The drains are supposed to hold the water, and our streets serve as secondary drainage as the underground system activates. You are responsible for maintaining the open gutters in your neighborhoods (remove debris, trash, and yard clippings). The city is accountable for performing routine maintenance on drains that may have buildup/structural issues. Do not become alarmed because rain is in the drain or the street – this is on purpose, so water does not enter into your home. Illustrated reminders are also below for your reference. Expect the drain to hold the water from 8-12 hours.

3/ Zoo Tickets are available. Please take advantage of Houston's premiere attractions. I will send five tickets per household so you can enjoy it with your family, especially as the weather gets cooler (fingers crossed).

4/ There are an incredible amount of construction projects throughout District F. Although we have experienced a drought, this has allowed us to stay on track to complete sidewalks, drainage, and speed bump projects. That said, please do not engage directly with the on-site construction teams. Project managers are assigned to each project and knowledgeable of detailed information the site teams may not know. Often, this creates misinformation, confusion, and double work to clarify between my office, Houston Public Works, and their service lines. If you are interested in contacting the project manager assigned to an ongoing project, give us a buzz at [email protected], and let us provide you with the best person to address your issues.

In closing, as we spend time with family, traveling, or in the solitude of our homes this Labor Day Weekend, let us think of those who advocated for better working conditions, time off, and adequate wages and pressed the federal government to adopt similar standards. We are all the better for it.

Be kind to one another. It goes a long way.

Happy Labor Day Weekend,

Sincerely,


Councilmember Tiffany
HOT SPOT TEAM HIGHLIGHT
WEEK OF AUGUST 22ND
Total Work Orders Completed: 9
Hotspot of the Week:  9900 South Court
Total Man Hours Worked: 64
Tree Waste: 270 lbs.
Mattresses: 0
Furniture Waste: 3 pieces
Tires: 0
Trash Debris: 210 lbs.
Shopping Carts: 1
Bandit Signs: 98
Landscaping: none
SOLID WASTE OPERATIONS UPDATE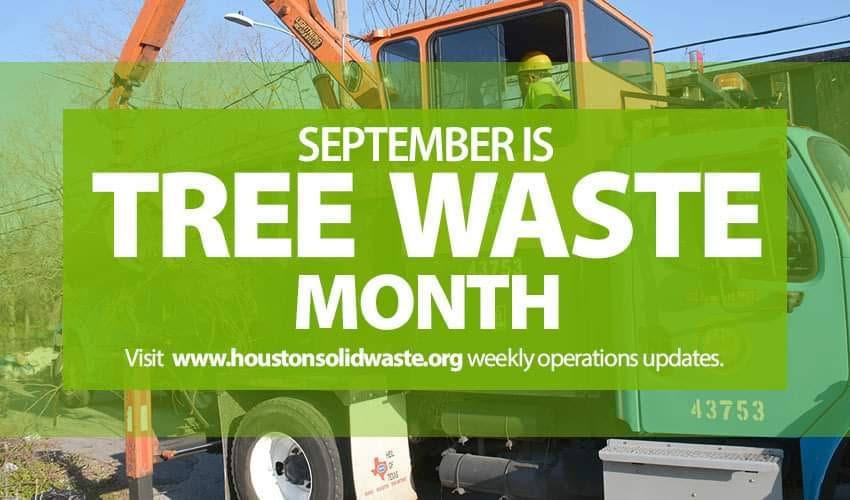 As of August 29, 2022
September marks the START of Tree Waste collections month. If your collection day is the 1st week of September, place your debris at the curb.
Septiembre marca el INICIO del mes de recolección de Arboles. Si su día de recolección es la 1ª semana de Septiembre, coloque sus despojos en la acera.
Facebook- Updated daily
Link: City of Houston Solid Waste Management – Posts | Facebook
HTX Collects- an app used to update you about your service in real-time. You can also use the link on the website to get an update.
Link: http://www.houstontx.gov/solidwaste/htxcollects.html
The photo above highlights the District F Crime Report generated by HPD and presented to City Council during the August 30th, 2022 Council session.
PUBLIC INPUT
Intersection Survey
We want to hear from you. Please take the survey below and let us know what intersections you would like to see improved in your community. The form will remain open until August 12th at 11:59 PM.
Click here to participate.
Our office is giving away Houston Zoo Tickets that will be eligible for use until the end of this year. Tickets will be distributed on a first come, first serve basis, 5 tickets per household. To contact us for additional information you can give us a call at 832-393-3002 or send us an email at
[email protected]
. 
List will close by September 2nd.
Fill out the form for tickets here.
CHELFORD CITY DIVERSION PACKAGE 2 WBS NO. R-000536-0027-4 
The District F Office and Houston Public Works Department are encouraging constituents to visit EngageHouston.org for more project specific details of both projects, Chelford City Diversion Package 2 & Chelford City Diversion Package 3 using the following links:
COUNCILMEMBER THOMAS PARTICIPATES IN CITY BUSINESS DAY FOR PRISON ENTREPRENUERSHIP PROGRAM
Councilmember Thomas joined Mayor Turner and her colleagues on August 31st at OBO's interactive workshop for the Prison Entrepreneurship Program (PEP).  The purpose is to give PEP participants, who have recently reentered society, a high-level overview of the different options to do business in and with the City.
PARTNERS GATHER AT THE HOUSTON TOOLBANK TO PREPARE FOR DISASTER RECOVERY
On August 30th, the District F team joined partners from West Houston Assistance Ministries, the Church Without Walls, and Piney Point Elementary to discuss the hurricane preparedness plan.
DISTRICT F TEAM JOINED BAKER RIPLEY TO LEARN ABOUT PROGRAMS AND SERVICES THAT ARE COMING TO THE DISTRICT. 
On Tuesday August 23rd the District F Office visited the Baker Ripley Gulfton Campus to learn more about the intimate work this organization is doing for the constituents in on the Westside of Houston. This was truly a exciting experience to tour the campus and witness the phenomenal works that Baker Ripley leadership team and organization is doing in community around eductaion, technology, and immigration.
Click 
here 
to learn more.
DISTRICT F HOST ITS SECOND ANNUAL CAREER FAIR
On August 20th, District F and Workforce Solutions hosted the 2nd annual career fair. More thatn 60 employers and 300 candidates came to the event and was able to apply for an interview for opportunities. We also had voter registration, social media workshops, headshots at no costs, adult literacy resources, and 5K jobs at $15 min.
COUNCILMEMBER ATTENDS THE ART OF FUFU
On August 19th, CM Thomas attended the Art of Fufu and presented a proclamation to Chef Kavachi. District F is home to the largest Nigerian American population in the US which makes us unique.
DISTRICT F COUNCIL ITEMS
August 31st
Item #3
This project consisted of the reconstruction of sidewalks, curb-ramps, replacement of damaged concrete pavement panels, overlay of deteriorated asphalt pavement surfaces, replacement of pavement markings where needed, modification of medians and ditch improvements. The project was awarded to T Construction, LLC. The projects were located in 80 locations.
District F: Dunfield Lane-Saulworth St. from Vanderford Dr. to Misty Glen Lane.
Item #25
The Houston Parks and Recreation Department (HPARD) requests Council approval authorizing the submission of a transformational Habitat Restoration and Coastal Resilience grant application under the Infrastructure Investment and Jobs Act (IIJA) to the National Oceanic and Atmospheric Administration (NOAA).
In year 4, 13 Parks within the Brays Bayou Watershed to be restored or enhanced, totaling approximately 146 acres. Approximately 33,592 trees will be installed.
MacGregor Parkway
Braeswood Parkway
Boone Road Park
Hermann Park
Gragg park
Fonde Park
Hackberry park
Harwin
Elm Park
Mason
Spurlock Park
Spurlock Parkway
Braeburn Glen Park
Item #26
The Houston Parks and Recreation Department (HPARD) requests City Council approval to apply for and receive a grant from the Texas Department of Agriculture (TDA) Food and Nutrition (F&N) for the Child and Adult Food Care Program (CAFCP) to serve approximately 1,000 average daily meals and 1,000 average daily snacks at approximately 60 eligible sites. Interested churches, nonprofits, YMCA, community centers, apartment complexes, and public libraries who are interested in serving as a site should contact [email protected].
Learn more here.
CM POP OFF FROM 08/24/2022
Drainage Maintenance Reminder 
FIVE THINGS TO KNOW ABOUT MONKEYPOX
For more information about Monkeypox click 
here
.
SUBSCRIBE TO NEIGHBORHOOD UPDATES
Phone messages in English and Spanishnotify residents about city services, new programs & civic engagement opportunities
Voice/text messages a convenient servicefor residents without easy access to internet sources
The Department of Neighborhoods (DON) invites residents to subscribe to Neighborhood Updates to receive brief voice or text messages in Spanish or English about essential services and resources.
The messaging service is for everyone, especially for seniors and others who may not have easy access to online information, persons with disabilities who need information in audio or written format, and residents who prefer notices in Spanish.
Tickets are now available for our first ever #ToolTrot presented by Community Health Choice! Participants in the virtual step-a-thon will compete to get the most steps between September 1st – September 12th, with the chance to win one of six prizes.

Participating is easy! Just buy a ticket here https://tinyurl.com/3js6xckm, download the atlasGO app, and get ready to get those steps in!
Enroll Today in Alief ISD's Award-Winning Schools!
2022-2023 Registration is open for Pre-Kindergarten to 12th grade students new to Alief ISD, including incoming Pre-Kindergarten students entering the Full-Day Pre-K Program.
To apply online, visit www.aliefisd.net/reserve. Call 281-988-3100 for assistance.