Vol. 3, Issue 17 – 07.8.22
District F,

I hope you enjoyed a safe and celebratory July 4th weekend. This week's newsletter contains essential information regarding the city and your community that requests public input.
As always, much is happening at city hall, and I want to address the General Land Office's recent decision regarding Hurricane Harvey and our current sub-agreement. As chair of the housing and community affairs committee, I have penned a statement for your review and records.
At the 2nd Annual Public Safety Town Hall meeting, I mentioned that Councilmember Sallie Alcorn and I plan on addressing the ongoing issue regarding parking violations, particularly with 18-wheelers and trailers at the scheduled Regulatory Neighborhood and Affairs (RNA). I have a growing list of stakeholders. If you are interested in signing up, please email [email protected] with the subject line RNA Meeting.

Let's talk about redistricting.

As discussed on May 17 at our joint CIP and redistricting meeting, the city was in the process of reviewing the lines per the census 2020 survey results. District F recorded 204K residents, 2% less than the previous count. The proposed maps released decrease the count from 204K to 201K, and the substantial changes are below:

REMOVAL of PCT 566, the southeast corridor of Richmond and Beltway 8, includes First United Methodist Church, The Quillian Recreation Center, Westchase Management District offices, Tracey Gee Community Center, and several apartment complexes where we have a deep relationship.

ADD PCT 727, which is currently in District G from Kirkwood to Wilcrest, north of Westheimer Rd.

MINOR ADJUSTMENT: Where District F/J meets at Beechnut and Wilcrest, the boundary line includes all Imperial Point sections to the Glenshannon neighborhood.

There are three opportunities for you to comment on the proposed maps and even present an alternative:

—

The Proposed Redistricting Plan maps (citywide and district) are now available on the Let's Talk Houston page https://www.letstalkhouston.org/redistricting.

The full resolution PDFs are posted on the right navigation.

As a reminder, two of the three scheduled public hearings will take place next week. The public is invited to speak at the hearing and may reserve a specific amount of time by contacting the City Secretary's Office at 832-393-1100, by 3 p.m. the day before each hearing is scheduled to begin. Details for signing up to speak in-person or virtually are posted at https://www.houstontx.gov/council/meetingsinfo.html

Wednesday, July 13, 2022, at 9:00 a.m.

Wednesday, July 13, 2022, at 7:00 p.m.

Wednesday, July 20, 2022, at 9:00 a.m.

For the last 18 months, I have encouraged residents to help me prioritize my council district budget by receiving requests for projects that qualify for public use. Thank you. The city's fiscal year closed on 6/30. I will soon provide a snapshot of our overall investment in public safety, quality of life, neighborhood revitalization, economic development, and youth programming. This method has worked so much that more than $500,000 in projects are ready to initiate this fiscal year. Stay tuned for more activity in our district.

In closing, I want to encourage you to participate in public comments regarding the proposed redistricting maps – which ultimately affect the district. I have made my intentions known to keep our diverse network of neighborhoods and neighbors together – so we can continue our excellent work.

Be Kind,
Councilmember Tiffany D. Thomas
WEEK OF JUNE 27
HOT SPOT TEAM HIGHLIGHT
Total Work Orders Completed: 31
Hotspot of the Week: 10500 Jody Court
Total Man Hours Worked: 72
Tree Waste: 330 lbs.
Mattresses: 6
Furniture Waste: 10 pieces
Tires: 32
Trash Debris: 300 lbs.
Shopping Carts: 19
Bandit Signs: 134
Landscaping: none
Update: None
Schedule: TWTHFSS Kevin working 530-930 T-F and 8-4 weekend.
Hurricane Season began on June 1, 2022, and ends on November 30, 2022. It ts important to stay safe—we never know when a hurricane might hit. Below is the hurricane preparedness graphic created for District F residents. Please share this graphic with neighbors, especially those most vulnerable and who don't have internet access. Additionally, using the list in the graphic, be sure to pack an emergency kit. Here is some helpful information:
Our office is here to assist. We have partnered with the Houston Toolbank and local organizations to support immediate recovery needs and will provide more information later this month. If you need an emergency guide or further information, please email [email protected] or call 832-393-3002.
Find more resources here.
On June 25, 2022, at 8 am, District F held the inaugural mindfulness and wellness day at Woodchase Park. The event was guided by Jotina Buck of Root + Yoke Wellness, followed by a boot camp and hip hop session. Kona Ice snow cones were available for attendees afterward.
On June 28, City Council Member Tiffany D. Thomas met with constituents on Alief Clodine and Bungle in the Brays Village Patio Homes community to observe traffic and sound. The District F office is looking into sound barriers and traffic enforcement measures to provide a better quality of life for residents.
DISTRICT F COUNCIL ITEMS
June 29th  
Item #7 Ordinance appropriating $600,000.00 out of Dedicated Drainage and Street Renewal Capital Fund – Drainage Charge and $104,550.00 out of Water & Sewer System Consolidated Construction Fund as an additional appropriation to the contract between the City of Houston and SER Construction Partners, LLC for Change Order No. 2 for Briarmeadow Area Drainage and Paving Improvements (approved by Ordinance No. 2020-0162); providing funding for CIP Cost Recovery relating to construction of facilities financed by the Dedicated Drainage and Street Renewal Capital Fund – Drainage Charge and Water & Sewer System Consolidated Construction Fund.
Item #8 Recommendation from Director Department of Houston Public Works for approval of Change Order No. 2 in the amount of $1,296,464.74 for Briarmeadow Area Drainage and Paving Improvements on contract with SER Construction Partners.
Item #29 Ordinance appropriating $17,310,659.00 out of Water & Sewer System Consolidated Construction Fund, awarding contract to BRH-Garver Construction, LLC for Chelford City Diversion Package 3; setting a deadline for the bidder's execution of the contract and delivery of all bonds, insurance, and other required contract documents to the City; holding the bidder in default if it fails to meet the deadlines; providing funding for CIP Cost Recovery relating to construction of facilities financed by the Water & Sewer System Consolidated Construction Fund.
Learn more here.
July 6, 2022
Item #8 Ordinance approving and authorizing Subrecipient Agreement between City of Houston and ALIEF INDEPENDENT SCHOOL DISTRICT for COVID-19 Public Health Workforce for the Houston Health Department; providing a maximum contract amount – 1 Year – $599,946.00 – Grant Fund
Item #20 Ordinance approving and authorizing Professional Engineering Services Contract between City of Houston and GUNDA CORPORATION, INC for Near Real-Time SSO Predictive and Condition Assessment Support for Wastewater Collection Near Systems and Technical Support Services; providing a maximum contract amount – $12,500,000.00 – Enterprise Fund
This item was tagged to better understand the consent decree and water system. 
Learn more here.
COUNCILMEMBER THOMAS POP-OFF COMMENTS DURING JUNE 28TH CITY COUNCIL MEETING.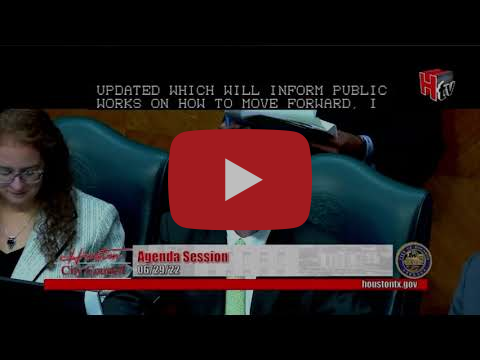 COUNCILMEMBER THOMAS COMMENTS ON DISTRICT F CAPITAL IMPROVEMNTS PROJECTS DURING JUNE 28TH COUNCIL MEETING.
SUBSCRIBE TO NEIGHBORHOOD UPDATES
Phone messages in English and Spanishnotify residents about city services, new programs & civic engagement opportunities
Voice/text messages a convenient servicefor residents without easy access to internet sources
The Department of Neighborhoods (DON) invites residents to subscribe to Neighborhood Updates to receive brief voice or text messages in Spanish or English about essential services and resources.
The messaging service is for everyone, especially for seniors and others who may not have easy access to online information, persons with disabilities who need information in audio or written format, and residents who prefer notices in Spanish.
Learn more about the lifeguard shortage here.
Backpacks, school supplies, school vaccinations, and COVID-19 testing and vaccines will be available for Alief residents at the Alief Community Health Fair that will be held at Bush Elementary School on Saturday, July 30. www.aliefisd.net/healthfair for more information.
Visit 
Alief ISD's Full-Day Pre-K Program: A New Way to Pre-K!
Alief ISD is investing in a new way to Pre-K by creating innovative experiences for Pre-Kindergarten children that takes learning beyond the four walls of the classroom!
The new Innovative Interactive FULL-Day Pre-K program provides hands-on, immersive, purposeful and playful experiences that build important background knowledge and vocabulary necessary for Kindergarten readiness, as well as future educational success.
Spots are filling up quickly! To apply online, visit www.aliefisd.net/reserve. Call 281-988-3100 for assistance. 
HOUSTON PUBLIC LIBRARY EVENTS


Star Party  
Thursday, July 7, 2022
6:00pm – 7:30pm
Barbara Bush Literacy Plaza at the Houston Public Library
Explore the solar system at HPL's Star Party! We've got telescopes, HPL's new Astronomy Dome, NASA, and our first ever "Space Story Walk"! Also featuring out-of-this-world activities, snacks, and crafts. All ages welcome.Family Movie on the Plaza
Tuesday July 12, 2022-August 30, 2022
5:30pm-7:05pm
Barbara Bush Literacy Plaza at the Houston Public Library
Sit back, relax, and enjoy watching a movie that's fun for the whole family! This is an outdoor event. Feel free to bring your own blankets or chairs.

HMRC Presents: Meldrum Room Open House
Thursday, July 21, 2022
5:00pm – 6:30pm
Meldrum Room- Julia Ideson Building
Houston's first permanent library, a Carnegie funded building, was built in 1904. Norman and Minnie (nee Sweet) donated funds to create a children's room in honor of their eight-year-old daughter, Norma, who died of scarlet fever in 1899.
What began as an active children's library is now a retrospective research collection for the study of children's literature from the 1800s to the 1970s. The room is normally locked and only opened for prescheduled tours.

Summer Reading with Kwame Mbalia!
Saturday, July 23, 2022
11:00am – 12:00pm
Central Library, Jesse H. Jones Building
Tristan Strong fans do we have a treat for you! Join us this summer as we host Kwame Mbalia at HPL as a part of our Summer Reading author series! Hear Kwame talk about his books, writing process and so much more!

HPL History Research Centers Present: Inside the Walls: History of the Astrodome – The Making of a Houston Landmark
Friday, August 5, 2022
10:00am-11:00am
Virtual Event
Join us for a real-time virtual presentation about the creation of the Astrodome, one of the most well-known landmarks in Houston's history.
The presentation will feature photos from the Houston Metropolitan Research Center's special collections showing early promotional ads, construction of the dome, and the lavish interiors that were only available to the elite.

HPL Presents: Jasmine Guillory  
Wednesday, August 10, 2022
7:00pm – 8:30pm
Virtual Event
Join us in celebrating Romance Awareness Month where we all read a romance novel in August by hosting Jasmine Guillory, author of The Wedding Date, The Proposal, and her newest book While We Were Dating, to speak about Diversity in Fiction.
Fans of Sonali Dev and Abby Jimenez will enjoy this talk.
This will be a virtual event. Registrants will receive a webinar link no less than 24 hours prior to the event.!