Vol. 2, Issue 18 – 05.06.21
We wish a Happy Mother's Day this Sunday to all of the mothers in District F, including those who serve as mothers to others' children and those who are no longer with us. We can't thank you enough.
Linda Faye Carmouche Thomas
(1955-1999)
Paula Duncan
Patricia Navarro
Julie Nguyen
Dr. Marsha K. Wilson
Visit Asia Society Texas Center's website for 31 ways to celebrate Asian American and Pacific Islander/Asian Pacific American Heritage Month!
Churches and facilities in District F: if you are interested in potentially becoming a vaccination site, please click on the image to fill out our survey.
Iglesias y instalaciones en el Distrito F: si está interesado en convertirse en un sitio de vacunación, haga clic en la imagen para completar nuestra encuesta.
Các nhà thờ và cơ sở ở Quận F: nếu bạn quan tâm đến việc có khả năng trở thành một địa điểm tiêm chủng, vui lòng nhấp vào hình ảnh để điền vào bản khảo sát của chúng tôi.
If you have missed rental or utility payments due to being impacted by the pandemic, apply for assistance from the Houston-Harris County Emergency Rental Assistance Program. Assistance will NOT be first-come, first-served.  To receive help over the phone, call 832-402-7568.
To check on your application status, click here.
"WHAM will present its first-ever Houston Impact Maker Award to Houston Council Member Tiffany D. Thomas! She demonstrates genuine care and concern for our community. We appreciate her leadership and look forward to honoring her on May 21st."

To read West Houston Assistance Ministries' press release on this event, click here.
A big thank you goes to Sewa International, Southwest Management District, HPD Midwest, and all of the volunteers who braved the rain to assist with the mega food distribution that took place on Saturday, May 1st! In all, 1200 boxes of groceries and gallons of milk were delivered and distributed that day to families in the following apartments in District F:
Hamilton Park
Happy Village
Sunblossom Gardens
Sunblossom Mountain
Rock Springs Apartments
Sunblossom Cottages
Sunblossom Louisville
Villa Bella
Sovereign Townhomes
Tuesday, May 4th was International Firefighters' Day.  Thank you, especially, to the brave men and women of Houston Fire Station 83, 76, and 10 in District F who risk their lives every day to protect us.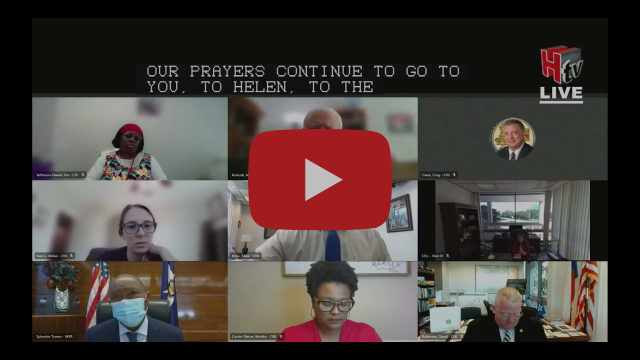 On Wednesday, May 5th, Mayor Turner led City Council in a moment of silence to honor the fallen police officers over the last year.  The City will also be holding a ceremony on Friday to cap off National Police Week.  Please take time to reflect on the contributions and sacrifices of the men and women of our police department.
Council Meeting – 05.05.21
Item #23  – shout-out to Houston City Council Member Martha Castex-Tatum, District K (Queen of Clean) for the donation box ordinance. A small fee and NEW procedures will help keep our city CLEAN!
Item #28  – $24M in Harvey Economic Recovery $ small businesses. Businesses w/ 4 employees can qualify. More on this later.
Item #29  – $100M in TIRZ funds designated for affordable single-family development (citywide).
Item #47  – CP&Y Inc approved to complete engineering services for our water system in District D/F — $1.5M
Item #51 & #52  – Interactive Kiosk IKE SMART CITY, LLC passes (10-6)
Click on the image above to watch the full meeting.
Council Pop-Off Comments – 05.05.21
On Wednesday, May 5th, Council Member Thomas dedicated her pop-off comments to the variance request in Briarmeadow, the Planning Commission, new leadership in Super Neighborhood 17 and 25, the Olive Branch Muslim Family Services' produce box distribution on May 7th, the W Belfort Paving and Drainage CIP project, International Firefighter's Day, Mother's Day, and National Police Week.
CIP UPDATE:
W Bellfort Paving and Drainage
Progress Meeting – 4.12.21
On Wednesday, May 5th, Council Member Thomas attended a site visit with the W Bellfort Paving and Drainage project team.  We thank the team for their diligence and for providing our office with monthly updates on this CIP project.  It is slated to be completed in July, two months earlier than projected at the outset.
CIP UPDATE:
Westpark Paving and Drainage
("Westpark Expansion Project")