A WORD FROM COUNCIL MEMBER THOMAS
District F Residents,
Please join me and Council Member Edward Pollard for a Community Day this Saturday, as we celebrate our birthdays together by giving back to the community. In addition to free COVID-19 testing at Collins Elementary, our partners at Good News Church will also distribute food kits, masks, and PPE.  On Saturday, July 18th, District F will stand for free testing, free masks, and free food.  Please view the flyers below for more information.
NOTE: If you do not see any available days for an appointment on the website, please check back later in the evening or on the following morning.
For further assistance with registering, please refer to this FAQ and watch this tutorial:
Bounce Back Westchase is available to help any business in the Greater Houston Area.  The goal is to help you get new customers. If you sign up at BounceBackWestchase.com and offer a discount, BBWC will advertise your business to thousands of potential customers for FREE.  Thank you to Minuteman Press Westchase for their efforts to give a boost to our business community.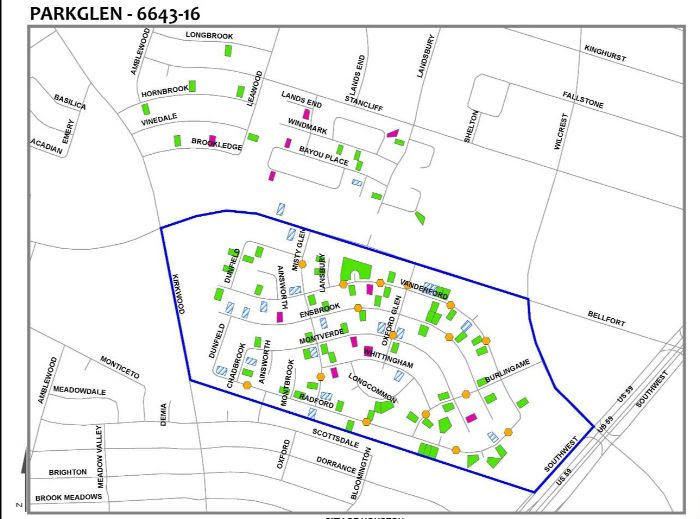 Funded through our office's Council District Service Fund, the Parkglen NTMP (speed cushion) project will be in construction from July 27th – August 17th.
The Office of Complete Communities and the Planning Department hosted their 3rd public meeting for Alief and Westwood on July 13th.  The Action Plan and meeting are available to view.
POP-OFF: Council Member Thomas Highlights Community Day, COVID-19 Testing at Crump Stadium, and Good Samaritans of District F
PROCLAMATION: Heads UP Houston
PROCLAMATION: Tobe Nwigwe
The City of Houston Planning & Development Department recently received a variance request to off-street parking standards outlined in Chapter 26 of the City of Houston's Code of Ordinances. The property under review is located at 3830 Wilcrest Drive, between Westpark Drive and the Westpark Tollway.

The purpose of the variance request is to allow 45 vehicle parking spaces, and 5 bicycle racks (21 bicycle spaces) on site, in lieu of the ordinance-required 48 vehicle parking spaces for a gym fitness facility.This item is currently being scheduled for consideration at a Virtual Planning Commission Meeting on July 23rd at 2:30pm.