Today, the 
Agenda Session
 focused on discussing amendments to the FY21 budget.
Item #11 – Approving the annual budgets of the City of Houston, for Fiscal Year 2021, including provisions for future adjustment to certain fund balances; making various amendments to the proposed budgets; authorizing certain transfers; redesignating a Cash Reserve in the Fund Balance; establishing a cost for copies of the budget; making other provisions related to the subject; making certain findings related thereto; providing a repealing clause; providing for severability

The finalized list of adopted budget amendments will be posted by next week.
HOUSING AND COMMUNITY AFFAIRS COMMITTEE MEETING
PUBLIC SAFETY AND HOMELAND SECURITY COMMITTEE MEETING
Thursday, June 25th – 10:00am
Details will be provided later this month.
Thank you to our outstanding Alief ISD students (Clinton Oreofe, Diego Castillo, Ekemini Ekewere, Hayam Zayden, James Packard, Evelyn Bustos, and Rodrigo Trujillo) for organizing a peaceful protest march this past Saturday.  And thank you to HPD, Alief ISD Police, Joe Capo, and all of our District F residents who joined in solidarity.

Looking ahead, our office and the Mayor's Youth Council will participate in a student-led conversation with HPD and our community.  Stay tuned for details!
Pastor Hernan Castano of Iglesia Rios De Aceite
on the Impact of Giving During This Time of Need
Thank you, Pastor Castano, for everything that you and your church are doing for our communities in need.
ORGANIZATIONS WHO ARE PARTNERING WITH THE HOUSTON FOOD BANK TO DISTRIBUTE FOOD IN JUNE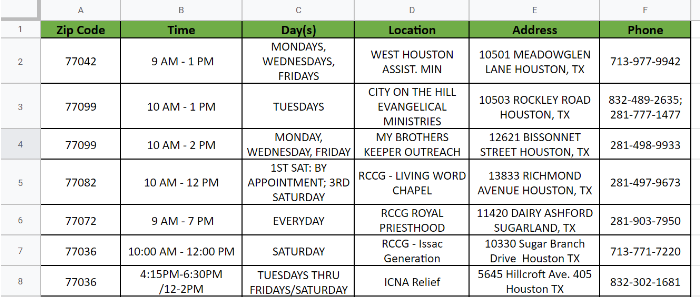 METRO Adopt-A-Stop & Adopt-A-Shelter Program
Participants in the Adopt-a-Stop or Adopt-a-Shelter program volunteer to pick up litter in the area between METRO's designated trash collection days, and have the option to make general improvements to the grounds around the stop or shelter. Trash bags will be provided at a bus stop or shelter at the request of the individual sponsor or organization.
As a volunteer in the Adopt-a-Stop and Adopt-a-Shelter programs, you or your organization will receive:
Six (6) FREE round-trip passes per month
An Adopt-a-Stop sign recognizing your neighborhood or organization affixed to the pole with the bus route sign (if you choose).
An official "Adoption Certificate" signed by METRO's President & CEO and Chief of Police
An opportunity to improve the aesthetic appeal of your community.