Item #9 – REVOLUTION FOODS, INC for Emergency purchase of 150,000 Meals for adults age 60 and older related to COVID-19 Pandemic for the Houston Health Department – $500,000.00 – Grant Fund

The Strategic Procurement Division issued an emergency purchase order to Revolution Foods, Inc. on March 27, 2020 related to the COVID-19 Pandemic. HHD and HCAAA immediate response to address the emergency of the closure of the congregate sites due to COVID-19. These meals are required to feed older adults who are unable to go to the congregate sites or receive meals through our home-delivered program in our traditional system as a result of the public health emergency due to COVID-19 Pandemic.
The provider who was supplying self-staple meals for the congregate program has met their capacity. This service will allow the seniors to continue to receive meals as a result of the closure of the congregate sites due to COVID-19.

Item #10 – ROCHE DIAGNOSTICS CORPORATION for approval of spending authority for Emergency purchase of Reagents and Test Kits for the Houston Health Department – $53,708.00 – General Fund

The Strategic Procurement Division issued an emergency purchase order to Roche Diagnostic Corporation on April 04, 2020, related to the COVID-19 Pandemic. The HHD-Bureau of Laboratory Services immediate response to address the public health and safety emergency were to increase on-hand test kits, reagents, and consumables to test COVID-19 specimens citywide. This product will be delivered to HHD-Bureau of Laboratory Services located at 2252 Holcombe Blvd., Houston, Texas 77030.
This emergency purchase consists of the items listed below:

(10) MagNA Pure LC Large Reagent Tubs-120 tubs
(10) MagNA Pure LC Medium Reagent Tubs-150 tubs
(10) MagNA Pure LC Sample Cartridge, 120 cartridges
(10) MagNA Pure LC Processing Cartridges, 160 cartridges
(10) MagNA Pure LC Tip Stands, 200 tips stand
(25) MagNA Pure LC Reaction Large Tips, 960 tips
(1) MagNA Pure LC Waste Bottles, 40 bottles
(45) MagNA Pure LC Total Nucleic Acid Isolation Kit, 1 kit
(50) MagNA Pure LC Medium Reagent Tubs30, 50 tubs
(20) MPC Nucleic Acid Isolation Kit I, 1 kit for 32 isolations
(1) Processing Fee
Pop-Off Session: Council Member Thomas
PUBLIC SAFETY AND HOMELAND SECURITY COMMITTEE MEETING
Thursday, June 25th – 10:00am
Details will be provided later this month.
We would like to give a big shout out to Mayor Turner, Heads Up Houston, E.L. Kingsley, EUY, Good News Church, the Houston Food Bank, and all of the volunteers who showed up for the hugely successful food and mask distribution event that took place in District F this past Saturday, May 30th.
We would also like to give a big thank you to the organizers and volunteers of Project Comfort Houston, who have been partnering with locally-owned restaurants and raising funds to donate cooked meals and deliver dishes to seniors that radiate warmth, comfort, and solidarity during this immediate period of uncertainty.
ORGANIZATIONS WHO ARE PARTNERING WITH THE HOUSTON FOOD BANK TO DISTRIBUTE FOOD IN JUNE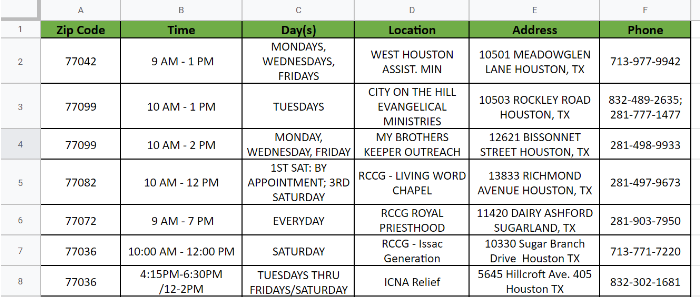 METRO Adopt-A-Stop & Adopt-A-Shelter Program
Participants in the Adopt-a-Stop or Adopt-a-Shelter program volunteer to pick up litter in the area between METRO's designated trash collection days, and have the option to make general improvements to the grounds around the stop or shelter. Trash bags will be provided at a bus stop or shelter at the request of the individual sponsor or organization.
As a volunteer in the Adopt-a-Stop and Adopt-a-Shelter programs, you or your organization will receive:
Six (6) FREE round-trip passes per month
An Adopt-a-Stop sign recognizing your neighborhood or organization affixed to the pole with the bus route sign (if you choose).
An official "Adoption Certificate" signed by METRO's President & CEO and Chief of Police
An opportunity to improve the aesthetic appeal of your community.
¡Llena el Censo hoy!