Last week, our office hosted the first of three virtual community input meetings, where we provided a brief update on COVID-19, in addition to the status of ongoing projects in District F.

CLICK ON THE IMAGE BELOW TO VIEW
THE SUPER NEIGHBORHOOD 25 MEETING
Answers from the Q&A section of the input meeting can be found here.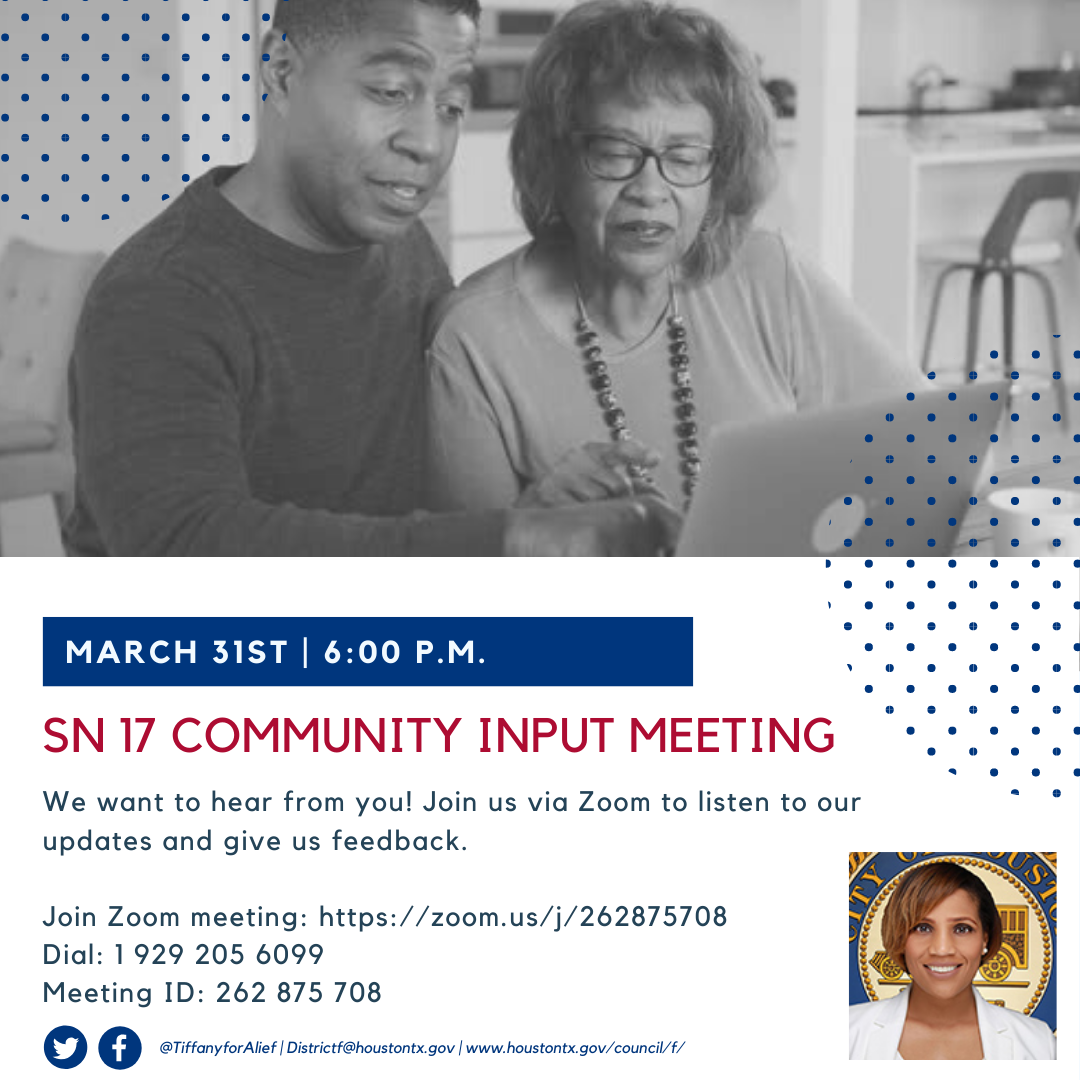 SUPER NEIGHBORHOOD 17
(Ashford Park, Shadowlake, Westheimer, Royal Oaks)
Tuesday, March 31st – 6pm
SUPER NEIGHBORHOOD 20
(Piney Point, Tanglewilde, Westmont, Briarmeadow)
Thursday, April 2nd – 6pm
This week, we will host virtual community input meetings for Super Neighborhood 17 and Super Neighborhood 20.
Please consider participating at the comfort and safety of your home or office. We plan on presenting CIP, Council District Service Funds, and receiving community input.
To join the meeting via Zoom video conference:
Please use the Chrome web browser to visit this link: https://zoom.us/wc/join/262875708?pwd=

Enter your name
On the next page, click on "Join Audio by Computer"

You may also join by downloading the Zoom application

Open the application and click on "Join a Meeting"
Enter the Meeting ID in the first box: 262 875 708
Enter your name in the second box
Click "Join"
In the pop-up window, click "Join With Computer Audio"
To join via phone:
Dial 1 929 205 6099
Meeting ID: 262 875 708
At a press conference yesterday, Governor Abbott issued two Executive Orders:
An order mandating a 14-day quarantine for road travelers arriving in Texas from any location in Louisiana. The self-quarantine procedure will mirror the process outlined in the Governor's previous Executive Order requiring mandatory self-quarantine for air travelers from the New York Tri-State Area and New Orleans, Louisiana.

This mandated quarantine will not apply to travel related to commercial activity, military service, emergency response, health response, or critical infrastructure functions.

An order prohibiting the release of individuals in custody for or with a history of offenses involving physical violence or the threat of physical violence. This Executive Order comes in response to concerns of the release or anticipated release of individuals because of COVID-19 who are deemed a danger to society.
CLICK BELOW TO VIEW THE PRESS CONFERENCE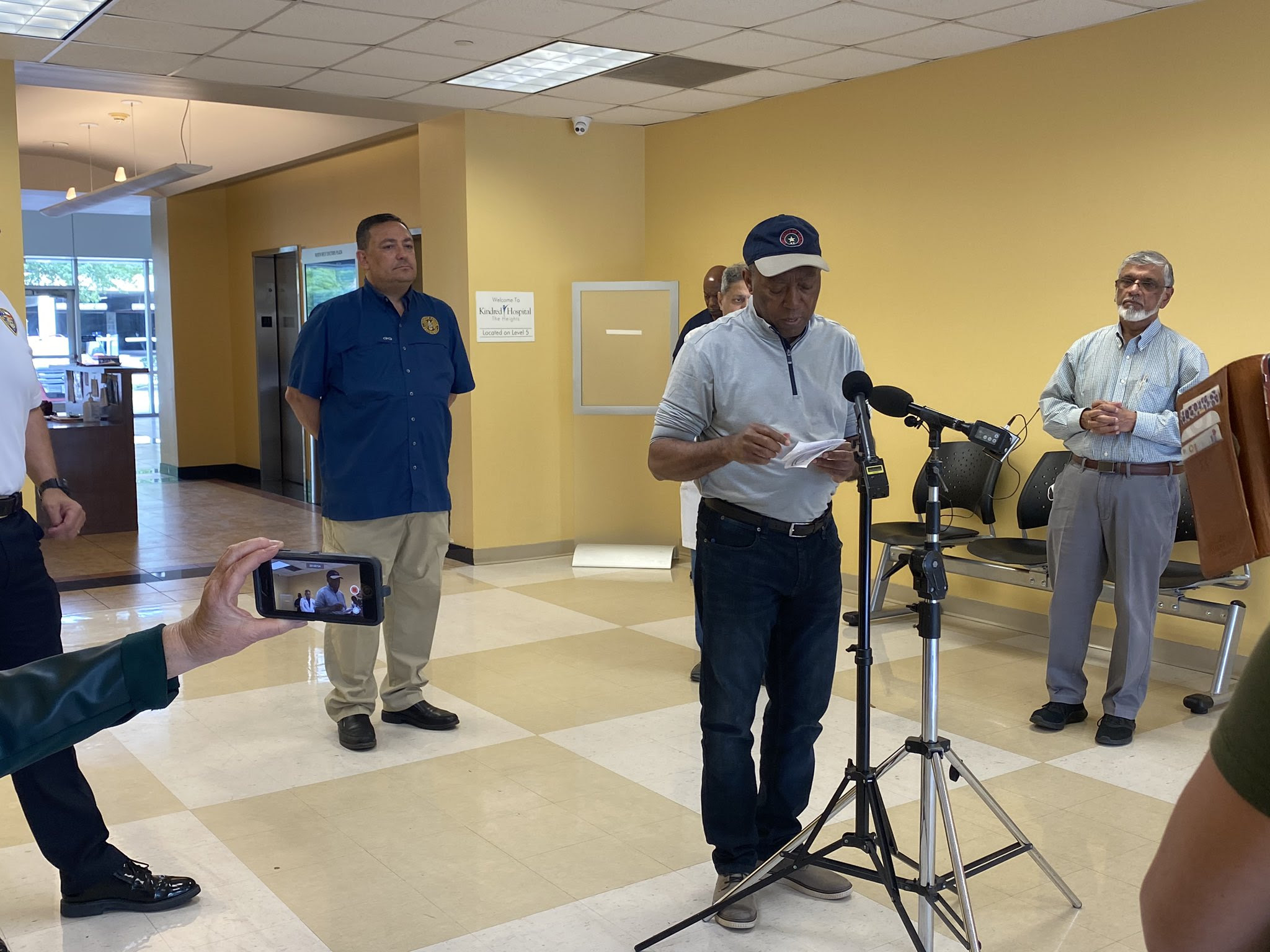 At a press conference yesterday, Mayor Turner provided updates regarding the City's two testing sites:
The 1st testing site is now open to all residents who are symptomatic, regardless of age.
The 2nd testing site will be open as early as Tuesday, 3/31.
The City has received federal supplies to conduct 250 tests a day at both sites for the next few days.

The City will continue to bid on supplies in the private market, and is still in need of donations. If you would like to donate personal protective equipment or other medical supplies, please email: 

[email protected]

.org.

The first two deaths in Houston as a result of COVID-19 have occurred.*

As of 3/29/20, of the 286 COVID-19 cases in Houston, approximately 60% were between the ages of 20-60.
The Health Department is currently working on providing additional statistics regarding how many individuals have been tested, how many have tested negative, and how many have since recovered.

The City sites are to supplement the testing that you can obtain through your healthcare provider.
CLICK BELOW TO VIEW THE PRESS CONFERENCE
*Today, the Houston Health Department announced there has been a 3rd death as a result of COVID-19 and the number of cases in Houston is currently at 309.
United Way of Greater Houston and the Greater Houston Community Foundation are standing together to help support those in our community who have been impacted by COVID-19 and those who may be impacted by unforeseen economic conditions.The Greater Houston COVID-19 Recovery Fund will help the most vulnerable of our neighbors meet their basic needs and will help impactful nonprofits in our area serve our community through the COVID-19 pandemic and the economic aftermath.

For more information, please visit their website.
HARRIS COUNTY TAX OFFICE Gives Property Owners a Three-Month Break in Delinquent Property Tax Payments due to COVID-19Harris County Tax Assessor-Collector & Voter Registrar Ann Harris Bennett has announced that the Tax Office is providing a three-month extension of all 12-month delinquent property tax payment plans as a result of the COVID-19 pandemic.

For more information, please review this press release.
The PUBLIC UTILITY COMMISSION OF TEXAS has announced an order that service providers must suspend disconnections for customers who are in danger of losing power, water, and sewer service. This order is to mitigate the financial burden that families and individuals affected by the COVID-19 outbreak may be going through right now.

For more information, please review the PUC's press release and FAQs for this order.
The TEXAS COMPTROLLER'S OFFICE announced that they are offering assistance to businesses that are struggling to pay the full amount of sales taxes they collected in February, in the form of short-term payment agreements and, in most instances, waivers of penalties and interest.Please contact their Enforcement Hotline at 800-252-8880 to learn about your options for remaining in compliance and avoiding interest and late fees on taxes due.

For more information, please review their website.
Beginning Monday, March 30, METRO is making more adjustments to its bus and rail schedules to continue to provide the highest level of service possible. The modified schedule will maintain service throughout the region with some possible delays.  All Park & Ride routes, except those serving the Texas Medical Center, are suspended.
METRO's efforts are focused on connecting essential workers to their jobs. We also realize some in our community have few travel options which is why we are committed to providing trips to grocery stores, pharmacies and other places people need to go.  It is critical we all limit travel to only essential trips.
The service adjustments below may mean longer travel times, so please plan accordingly: 
Park & Ride
The following Park & Ride routes serving the Texas Medical Center will operate on a regular weekday schedule:

170-171 Missouri City Express/Fort Bend Town Center
292 West Bellfort/Westwood/TMC
297 South Point/Monroe/TMC
298 Kingsland/Addicks/NWTC/TMC

291 Conroe Park & Ride will only run 6:30 a.m. inbound and 4:30 p.m. outbound trips.
All other Park & Ride service is suspended.
Local Bus/ Community Connectors
Local bus routes will continue to run on a modified Saturday Schedule seven days a week.
Red and Blue routes will be reduced to service every 30 minutes.
Green Routes will follow their normal Saturday schedule.
Route designations can be found on bus stop signs.
Community Connector routes will continue to operate.
Please continue to enter through the rear doors.
For more information, please refer to their press release.

The HOUSTON AREA URBAN LEAGUE (HAUL) has reached out to our office to assure us that they stand ready to provide any or all of the following services, either virtually or in-person where it is necessary to do so:
Counseling laid-off workers and providing supportive services where necessary to ensure that they are engaged quickly and begin the process of seeking new jobs in the area.
Providing various kinds of skill training based on Industry-Recognized Credentials, or to meet specific needs of employers in our area who may be hiring.
Assisting with providing access to coronavirus test kits in the communities we serve, either through our current facilities or mobile delivery options as well as communications about access to the tests for those we have access to.
Small business assistance
For more information, please contact HAUL here.
CURBSIDE MEAL PROGRAM
The Houston Parks and Recreation Department will begin a Curbside Meal Program for Youth, ages 1 to 18, beginning on Monday, March 23rd.
The Curbside Meal distribution of a snack and lunch will take place Monday-Friday from 1:00 p.m. – 3:00 p.m. 50 meals will be available at each site. This may increase to up to 200 per site based on participation.
Lansdale Community Center, located at 8201 Roos St, 77036, is the participating site that is closest to District F.
To ensure social distancing is maintained throughout the curbside meal distribution, meals will be placed in the trunk of the recipient's car.
For more information, please refer to HPARD's press release.