By Christina Autry
Flocks of Scarlet Macaws, or at least their decorative representations, hang from ceiling perches inside their namesake restaurant, Guacamayas. It's no longer surprising that you would find a traditional Honduran restaurant, made more colorful by its national bird, firmly rooted on Beechnut. Within a half-mile of Guacamayas, is a Krishna Temple, a Buddhist Temple, a restaurant specializing in a Vietnamese breakfast dish (bo ne), a Mexican restaurant, and Viet-Cajun crawfish; all testifying to the cultural diversity of Houston's International District.
Guacamayas and the strip center it's housed in were quiet during the Friday lunch hour that we stopped by. A large dining area with many tables and booths, and a good-sized bar were decorated with Honduran flags, neon blue lighting, and the Houston Telemundo news channel, bringing the restaurant to life.
Honduran cuisine traditionally combines the flavors of Spain, the Caribbean, Africa, and cooking practices native to Honduras. That is why browsing the menu at Guacamayas means choosing between plantains, seafood soups, fried chicken, yuca, pastelitos, and many other globally inspired foods that have made a home in Honduras, and now Houston.
Many of the dishes listed under "Especialidades de Honduras" contain chicken and beef, with dishes like carne asada remaining popular in Honduras. With a 430-mile Caribbean coastline, seafood, especially lobster and shrimp, also dominate the food scene.
Pollo Frito, a hugely popular meal in Honduras, is done a great justice at Guacamayas. The tender and crispy fried chicken is buried under a pile of cabbage similar to cole slaw, rings of pink pickled onions, chopped tomatoes, tajadas (plantain slices), and drizzled in a mayo-based sauce. The result is a brightly colored and filling dish that could be split with another person– but why would you want to?
The Honduran desayuno tipico (breakfast) plate provides a sampling of fried plantains with cream, tortillas, goat cheese, beef strips, avocado, and fried eggs. The desayuno tipico in Honduras is meant to be a hearty dish to get you through the day, while dinner tends to be a lighter meal, or snack. And when they say "tipico," they do mean "tipico," as this plate is generally eaten most days by Hondurans who are able to acquire the ingredients.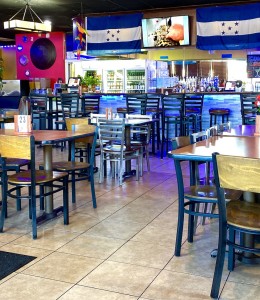 Tortillas will always be present with a meal in Honduras, and Guacamayas is no exception. The corn or flour tortillas draped across the desayuno tipico plate don't necessarily mean that you should create a taco out of all your breakfast ingredients, but instead gives you a bready option which you can use to enjoy each portion as your taste buds dictate, similar to a piece of toast or a roll in North American cuisine. Although flour tortillas are an option at Guacamayas, traditionalists would choose corn tortillas, as maiz has been grown and eaten in Honduras for centuries, and held religious significance to the indigenous peoples.
Eating at Guacamayas and dodging the fried plantains with cream means that you've missed an absolute treasure. Pan-frying the plantains brings out their sweet flavor and creates a very thin crispy outside layer in some spots of the plantain, leaving the inside soft and juicy. The cream sauce used as a dip is a slightly sour, heavenly contrast to the sweet fruit, and will make you wonder if a better food pairing exists.
With a relatively large menu, Guacamayas leaves room for several return visits to get a taste of what Honduras has to offer. Breakfast, lunch, and dinner dishes are served at Guacamayas any time between 7AM-10PM. So, if you're in the mood for a hearty Honduran breakfast at 8PM, or fried chicken first thing in the morning, they're ready to serve you up some of the best of each.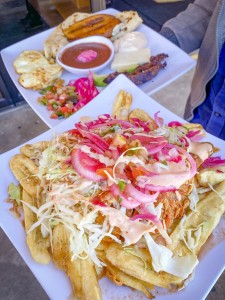 Guacamayas
11302 Beechnut St, Houston, TX 77072
832.770.4194