Apollos and Generals Proud…

Sharpstown Apollos
Sometimes, District J schools get a bad rap. Two recent achievements by our public school students should put those claims to rest.
Our Sharpstown High School Boys Soccer Team recently accomplished a major feat. For the first time ever, they are the Region III-5A champions! The boys played in the Semi Finals last Thursday in Georgetown, and although they didn't make it past that round, Sharpstown is proud of what they have accomplished. The future is bright for these young men!
In addition to our athletic Apollos at Sharpstown, our "Mathletes" at Wisdom High School also stunned the field and became the Region III-5A champions in UIL Mathematics. They will be advancing to the State Championship for the first time.
Our youngest District J constituents are making us all proud and proving that Southwest Houston schools have a lot to offer. Go Apollos and Go Generals!

Wisdom Generals
Thank You,
Council Member Mike Laster
NEW Swimming Pool Ribbon Cutting

Save the date! The Ribbon Cutting & Grand Opening for the new Sharpstown Pool (6600 Harbor Town Dr.) will be at the location on Saturday, May 25th at 10 am. In addition to the pool being officially open, there will be events and activities for the whole family. Make sure to stop by!
---
Sharpstown Architecture Prize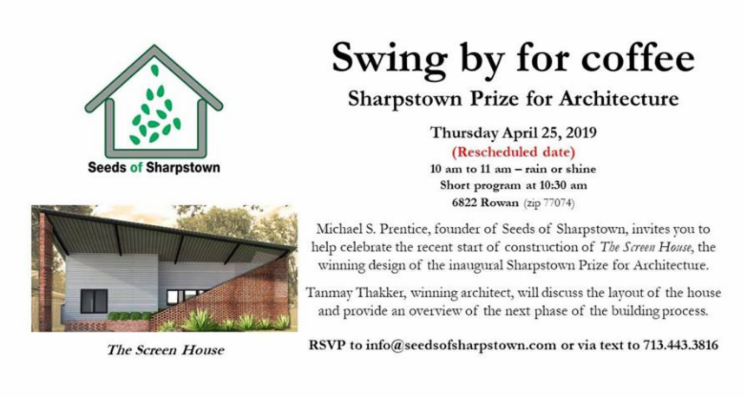 ---
Songwriting Contest
---
Census 2020 Houston
The City of Houston and Harris County have launched a new initiative to make sure all Houstonians are counted in the 2020 Census!
Houston in Action and its partners are serving as the overarching organization for government, non-profits, research institutions and other relevant stakeholders as the planning and implementation of a comprehensive community-wide 2020 Census take place. Learn more about how you can help by clicking the link above.
---
The Month in District J

The Sharpstown Parks Alliance (SPA) hosted a plant swap on April 13th. Interested in advocating for your neighborhood parks? Check out SPA!

District J held its annual CIP (Capital Improvement Plan) Town Hall Meeting in March