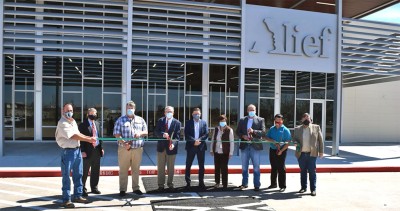 Alief ISD has opened its new, state-of-the-art 78,000-square-foot facility dedicated to professional growth and talent development of educators.
The Center for Talent Development is located at the former Burlington Coat Factory location off Westheimer and Highway 6. And the only thing that fell below expectations with this new facility is that the final cost is lower than the $23.8 million budgeted for its construction as part of a 2015 bond issue.
The long-awaited Center for Talent Development contains an assembly room that can hold up to 700 people along with 14 classrooms and six conference/breakout rooms. The classrooms are equipped with the latest technology for an engaged learning experience for attendees.
"I can remember our excitement the day after the bond passed and we realized we would be able to have a facility like this for professional learning in Alief," saidTracee Grisby-Turner, coordinator of professional development for AISD.
Looking beyond even classroom training, the Center for Talent Development is designed to host trainings for district employees involved with nutrition, transportation, human resources, and business services. Its mindset is that the better trained staff members are, the more the benefit to students, parents, community members and taxpayers.
Previously, staff development was held in various district buildings and schools. — basically, any available space was used. During summer school, staff would have to meet in a variety of locations where construction and building improvements were idle. Now the staff enrichment schedule can be consistent and provide opportunities for even more classes.
"Professional development is key in improving any area of a school district whether it be a teacher, an administrator, you work in the business department, transportation or human resources, there is always a need to come together to learn. This is a place where we can gather together to learn and to collaborate on best practices in all areas," according to Janine Hoke, director of professional growth and development.
The COVID-19 pandemic, like with most things, changed the way the district was able to provide professional development. It was offered only on line. But the new center is able to provide in-person sessions safely.
What is next for the Center for Talent Development? At the end of July, the district will welcome new teachers to their "Alief U" there. The yearly four-day training event provides new teachers development customized to content and grade level, along with an introduction and welcome to the district.
"When we know more, we do better and ultimately, our students do better.," Hoke said. "The Center provides us the tools to produce equitable outcomes for our students at every campus. It relieves limits on development opportunities. What happens in this building is in sync with the district's core values and mission for the district, empowering students with unlimited opportunities to change the world."
— By Jessika Leal